---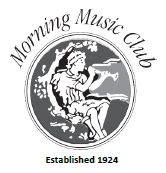 The Morning Music Club (MMC) is the oldest music organization in Rockland County.  The club was established on January 8, 1924 by a group of professional women musicians in the Nyack area.  MMC serves the community culturally, through its Concert Series; educationally, through its Music Scholarship Awards; and charitably; through its Outreach Program. Today, MMC attracts both men and women as members from Rockland and adjacent counties, and includes music lovers and patrons as well as musicians.  Read more history about the club here. 
HISTORY

MMC's Fall Concert, "Music Inspired by Nature" was amazing!  We are fortunate that our amazing artist, Itay Goren made a video of the concert and we are able to share it with any of you who missed the concert!  Click Itay Goren to view the concert, make sure to turn on the volume!
Join us for our next concert: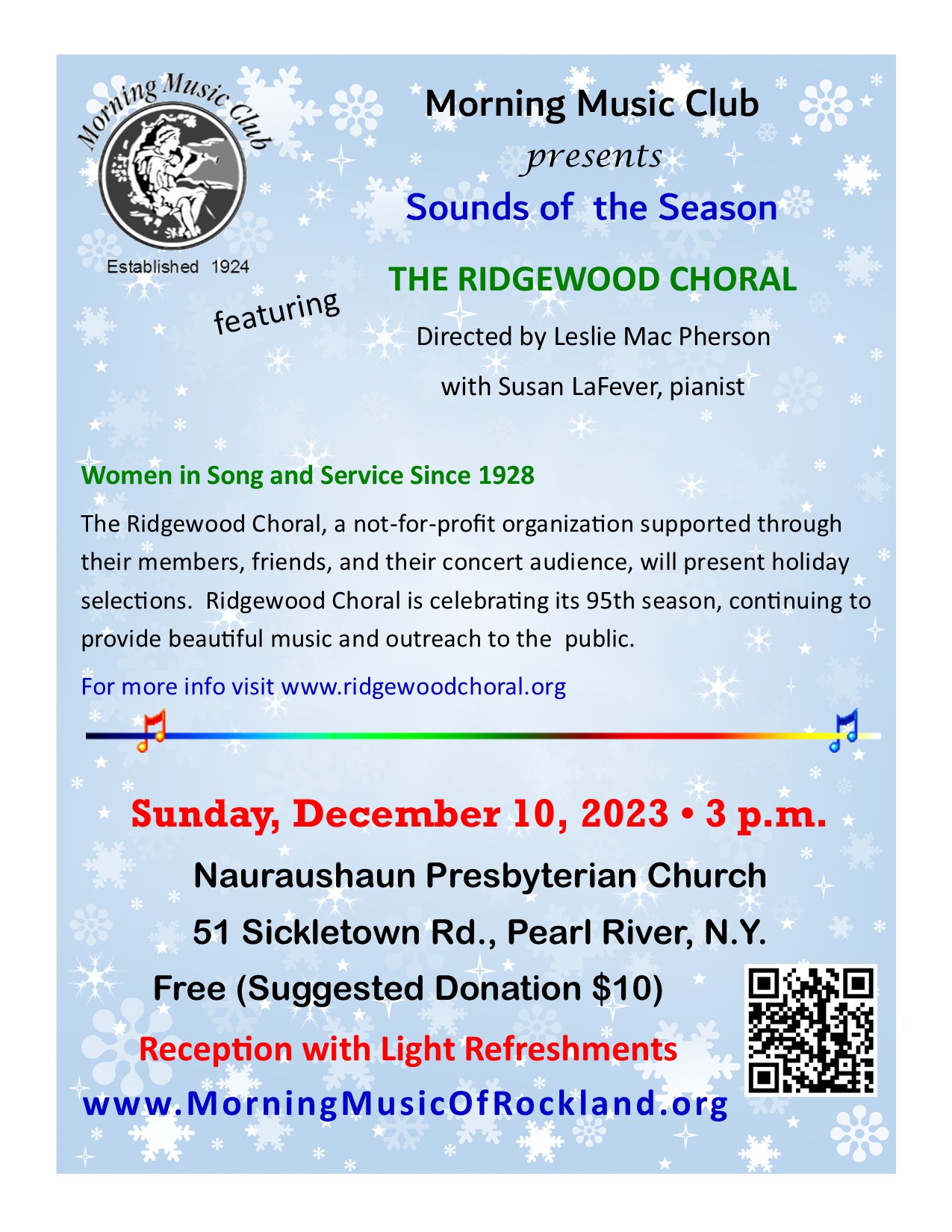 MEMBERSHIP MEETING – TUES, SEPT 18, 2023, 9:30 a.m.  Pearl River Library, Pearl River, NY 
Members only, come meet the executive board!   Hear what they have done over the last year and pans for the coming year.
MEET AND GREET – TUES, SEPT 19, 2023, 10:45 a.m.   Pearl River Library, Pearl River, NY
World-renowned artists, James Rensink, pianist, and, Kathleen Reveille, mezzo-soprano, will provide entertainment.  Guests are welcome!  Refreshments will follow.
FALL CONCERT – SAT., OCT 21, 2023, 3:00 p.m., Good Shepherd Lutheran Church, 112 N Main St, Pearl River, N.Y.,
Internationally acclaimed pianist, Itay Goren presents a solo performance, Music Inspired by Nature.  
HOLIDAY CONCERT – SUN, DEC 10, 2023, 3:00 p.m., Nauraushaun Presbyterian Church, 51 Sickletown Rd, Pearl River, NY
Ridgewood Choral (Women In Song and Service Since 1928) a not-for-profit organization, will be our guest artist. Refreshments will follow.
SPRING CONCERT – SAT. APRIL 6, 2024, 3:00 p.m. United Methodist Church of New City, 76 Congers Rd, New City, NY
The amazing Madison String Quartet will perform a variety of music.
SCHOLARSHIP RECITAL SAT.  MAY 18, 2024 3:00 p.m. New Hempstead Presbyterian Church, 484 New Hempstead Rd, New City, N.Y.
 MMC's annual Scholarship Recital features Musically talented Rockland County Scholarship winners.
MEMBERSHIP MEETING – May, 2024, 10:30 a.m.  Pearl River Library, Pearl River, NY
Slate of officers, budget and concert dates and artists for 2024-2025 will be presented, budget
LUNCHEON- SUNDAY, JUNE 2, 2024, 12 p.m.-3 p.m. Rockland Country Club, 380 Rte. 9W, Sparkill, NY.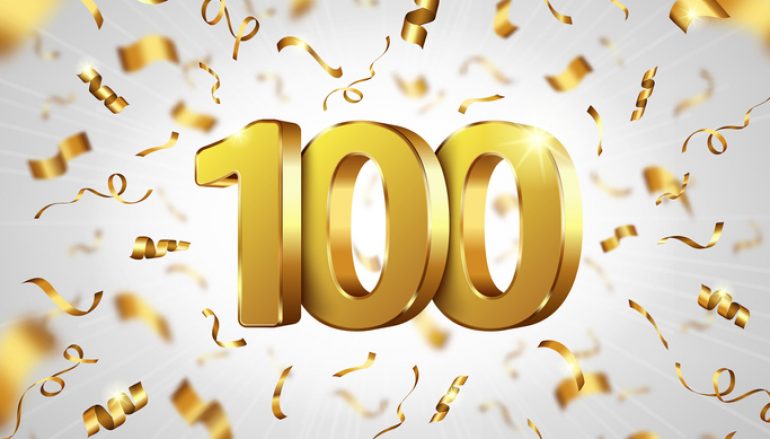 Members are encouraged to bring guests!  Fine dining lunch will be served and free valet parking will be provided.  Photo albums and memorabilia Entertainment will be provided by a few past scholarship winners.
Scholarship Awards
 Since 1950 MMC has held annual scholarship auditions for musically talented Rockland County High School seniors who plan to continue their music studies in college or conservatory.  Winners are awarded monetary scholarships and are showcased in a public recital.  Donations to the scholarship fund are accepted at the door and throughout the year.  More information will be forthcoming.
 Outreach Program 
MMC sponsors special music programs in the community for the young, the elderly and the physically and mentally challenged.
Here is just a sample of how amazing James Rensink from Morning Music Club is. Our residents were spellbound!
Thank you to James Rensink and Liz Van Dyke, Volunteer Outreach Coordinator, for collaborating with us and making this event so special!
An Invitation to Join MMC
Morning Music Club's main thrust is to support and promote fine music.  MMC provides music lovers a venue to enjoy and appreciate professional musicians from Rockland County and the greater NY area.  Our members provide scholarships to Rockland County High School seniors to further their musical education.  MMC provides outreach to community charities by sponsoring local musicians to perform.  MMC Chorus, a volunteer ensemble from our membership also performs for senior centers and nursing homes in the area. Be a part of an organization that makes a difference in our community.  Join MMC by completing and mailing the

a

pplication form

,  along with $40 annual dues payable to: "Morning Music Club",  Mail to: Bernice Rice Gerstein, Treasurer, 4 Baltic Court, New City, New York 10956.