The Morning Music Club (MMC) was established on January 8, 1924 by a group of professional women musicians in the Nyack area.  MMC serves the community culturally, through its Concert Series; educationally, through its Music Scholarship Awards; and charitably; through its Outreach Program. Today, MMC attracts both men and women as members from Rockland and adjacent counties, and includes music lovers and patrons as well as musicians.

Our Meet and Greet Celebration held on Sunday, April 15, 2018 was an amazing event!  Join MMC to find out more about our future events!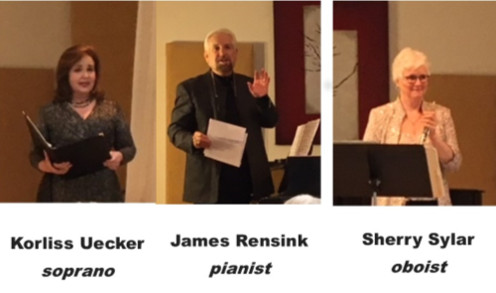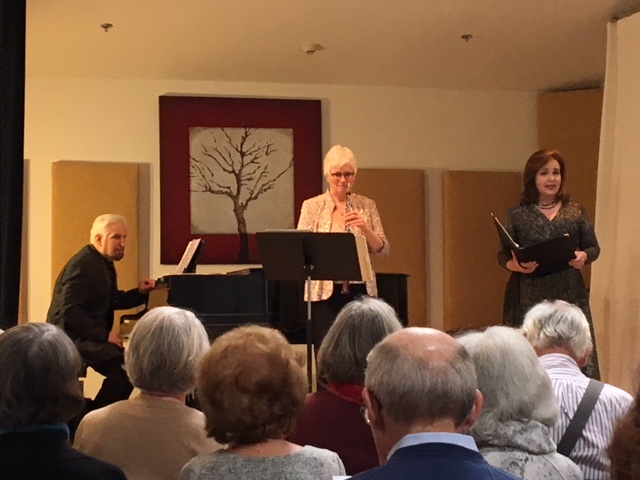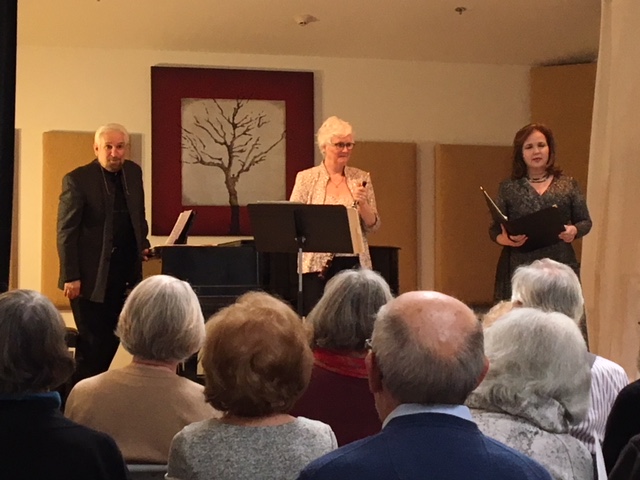 Morning Music Club will present a Scholarship Recital on Tuesday, May 22, 2018 at 7:30pm, at Nauraushaun Presbyterian Church, 51 Sickletown Rd, Pearl River, NY
Announcing Morning Music Scholarship Winners:
1st Place:
Andrea Kim Cello Tappan Zee HS $2,500
2nd Place:
Wynnum Sabile Piano Clarkstown South $2,000
3rd Place:
Jane Lee Flute Tappan Zee HS $1,500
David Banoczi-Roo Violin Green Meadow Waldorf $1,500
SPECIAL  AWARDS 
*Andrew Zhao Violin Pearl River HS $1,500
*Tiffani Rivera Voice Suffern HS $1,500                                      *Allison Potanovic Flute North Rockland $1,500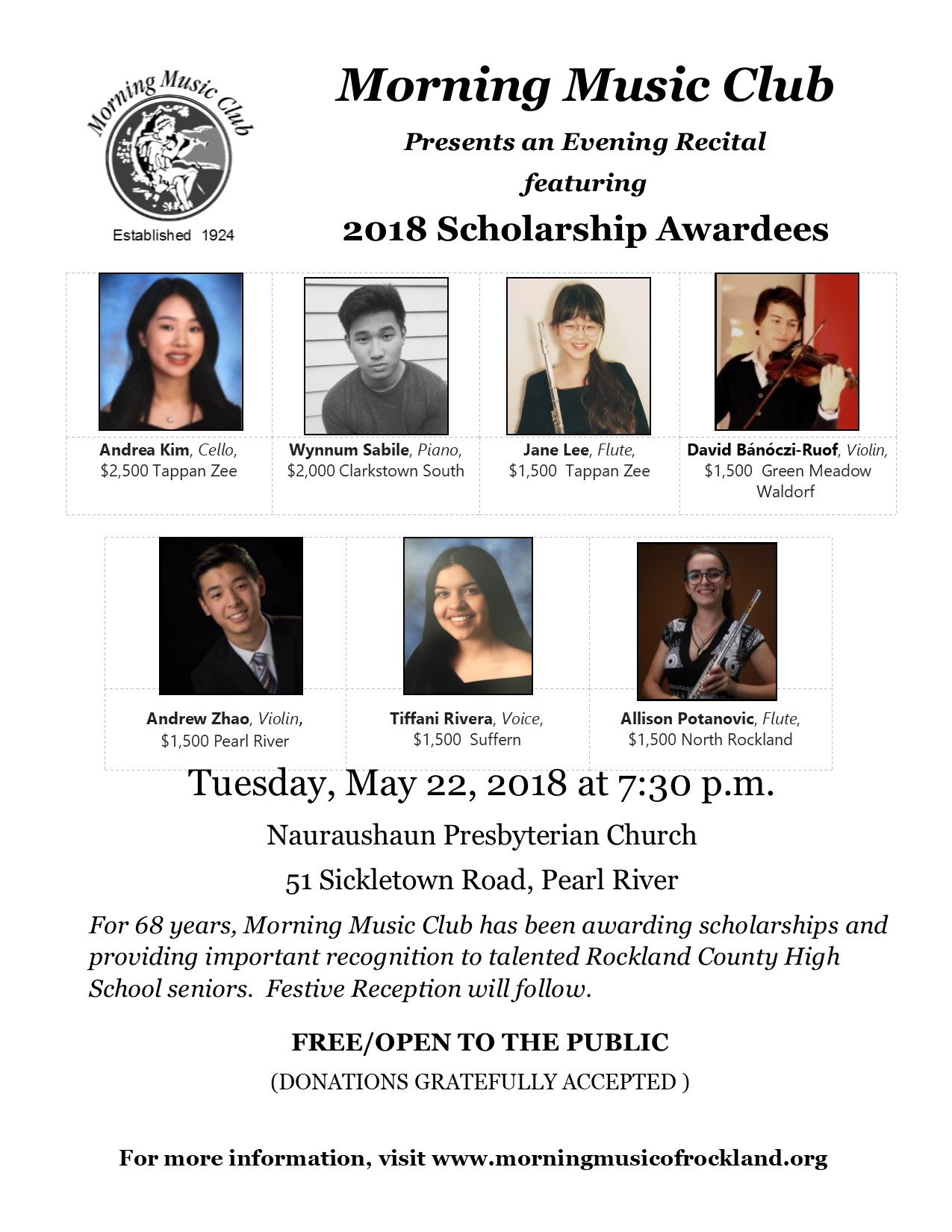 https://www.facebook.com/morningmusicclub/
Meetings and Events
GENERAL MEMBERSHIP MEETINGS – all members are invited!

Monday, September 18, 2017-  Home of Evelyn Bekerle, 10:30 a.m.
Tuesday, May 8, 2018- Nanuet Library, 10:30 a.m.
EXECUTIVE BOARD MEETINGS – at Pearl River Library
Morning Music Club (MMC) Chorus
 No auditions required.  Come and join the chorus!
 A professional director holds rehearsals Mondays during the autumn season to prepare for the annual Holiday Concert.
Their performance is repeated in the community as part of MMC's Outreach Program.
 Rehearsals are 9:30-11:30a.m. on Mondays in the fall at Nauraushaun Presbyterian Church, 51 Sickletown Road, Pearl River, N.Y.  10965.  Rehearsal dates Sept 25, Oct 2, 9, 16, 23, 20 Nov 6, 13, 20, 27 Dec. 4 ConcertTuesday, Dec. 5.
Call Geraldine Goumas for more info at 845-358-4025 Or send email for more info.
Concert Series 2017-2018
MMC features professional musicians from Rockland County and the greater NYC area in its annual Concert Series.  Concerts are generally held on Tuesday mornings at 10:30 a.m. and cover a wide range of musical offerings.   Concerts are held at: Nauraushaun Presbyterian Church, 51 Sickletown Road, Pearl River, N.Y.  10965, unless otherwise noted.
Carpooling is recommended.
(Donations to the Concert Series and scholarship fund are accepted at the door and donations of canned or paper goods for People to People are collected)
Fall Concert Tuesday, November 14, 2017, 10:30a..m.
Zara Lawler, flutist combines music, dance & theatre. In 2012 she staged Sciarrino's "Il Cerchio Tagliato dei Suoni" for 104 flutes at the Guggenheim in New York. Last year Zara and Paul Fadoul, percussionist, performed the premier performance of "Clickable", a theatrical concert. A Juilliard student of Carol Wincenc and Samuel Baron, Zara is currently based in New York City where and will be a guest of the New York Flute Club in December 2017.
Holiday Concert Tuesday, December 5, 2017, 10:30 a.m.
Chorus, led by director Melissa Manning will perform seasonal selections.
Guest artists: Steven Silverstein, clarinetist, has duo careers, historical instrument making, performing chamber and orchestral music that span 40 years. He served as principal clarinetist in Hudson Valley Symphonic Wind Ensemble and has had many guest appearances and performances with the Boston Pops, Norwalk symphony, and Statna filharmonia orchestra of Slovakia for 3 winters. His teaching experience includes Sarah Lawrence, SUNY Purchase, M.I.T. , San Francisco Conservatory, and Stanford.  CD's representing Steven's clarinet playing are on Albany recordings: include Music of Musolino, and Ackerman.
Lois Anderson, pianist, has performed at Lincoln Center, Carnegie Hall, and orchestral keyboards with Orchestra New England and New Jersey Symphony. She worked with singers of the National Chorale and Lake George Opera Festival.  She has performed with Manhattan Chamber Orchestra, the Finger Lakes Chamber Music Festival, new works with Manhattan Contemporary Chamber Ensemble and premiers involving piano with Gamelan Son of Lion.  Her original musical scores have been heard on ABC-TV and PBS. She currently teaches at Kean University in New Jersey.
Carols and a festive reception will follow.
————————————————————————————————————————————
Winter Concert -March 13, 2018, 10:30 a.m.  
SNOWDATE: March 20, 2018, 10:30 
St Augustine Church at 114 South Main Street, New City, N.Y.
Brenda Ferguson, organist/ director and member of Manhattan's AGO has performed and directed choirs and instrumentalists in many churches, schools and symphony orchestras across the US. She can also add 30 musicals to her list of credits. Brenda served as director of MMC Chorus for three rewarding years. The program will include works by Gigout, Vierne, Bach, Du Pré and Widor.
Scholarship Recital Tuesday, May 22, 2018, 7:30 p.m.
Nauraushaun Presbyterian Church, 51 Sickletown Road, Pearl River, N.Y.  10965.
MMC's annual Scholarship Recital features Rockland County Scholarship winners followed by light refreshments.
Scholarship Awards
 Since 1950 MMC has held annual scholarship auditions for musically talented Rockland County High School seniors who plan to continue their music studies in college or conservatory.  Winners are awarded monetary scholarships and are showcased in a public recital.  Donations to the scholarship fund are accepted at the door and throughout the year.  Download 2018 scholarship application here: 
MMC 2018 Scholarship
 Outreach Program 
MMC sponsors special music programs in the community for the young, the elderly and the physically and mentally challenged.
An Invitation to Join MMC
Morning Music Club's
 main thrust is to support and promote fine music.  MMC provides music lovers a venue to enjoy and appreciate professional musicians from Rockland County and the greater NY area.  Our members provide scholarships to Rockland County High School seniors to further their musical education.  MMC provides outreach to community charities by sponsoring local musicians to perform.  MMC Chorus, a volunteer ensemble from our membership also performs for senior centers and nursing homes in the area. Be a part of an organization that makes a difference in our community.  Join MMC by completing and mailing the application form found in the
Brochure
,  along with $40 annual dues payable to: "Morning Music Club",  
Mail to:
 Bernice Rice Gerstein, Treasurer, 4 Baltic Court, New City, New York 10956.