---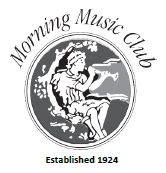 The Morning Music Club (MMC) was established on January 8, 1924 by a group of professional women musicians in the Nyack area.  MMC serves the community culturally, through its Concert Series; educationally, through its Music Scholarship Awards; and charitably; through its Outreach Program. Today, MMC attracts both men and women as members from Rockland and adjacent counties, and includes music lovers and patrons as well as musicians.  Read more history about the club here. 
HISTORY


We are so excited to announce that the HOPE AND PEACE Benefit Concert for Ukraine raised $13,600!  Thank you to all our generous donors, artists that donated their time and everyone who supported this worthy cause.  The money collected will be sent to the World Food Programme to benefit the people of Ukraine!
---
Here is just a sample of how amazing James Rensink from Morning Music Club is. Our residents were spellbound!
Thank you to James Rensink and Liz Van Dyke, Volunteer Outreach Coordinator, for collaborating with us and making this event so special!
JOIN US FOR THE NEXT UPCOMING CONCERT

 Stephen Fuller Quartet
The group was formed to share the concept of peace and joy through music. We perform music for mature audiences of all races and religious affiliations.
The group includes veteran musicians: Stephen Fuller, Vocals; Tomoko Ohno, Keyboards, Alex Gressel, Bass and Gordon Lane, Drums. The Stephen Fuller Quartet performs music from a wide variety of genres including:  The American Songbook, Folk, Blues, Gospel, R&B, Jazz, Bossa Nova and Broadway hits.  Their extensive repertoire can be tailored into a program that will make your event a joy for all who are lucky enough to experience it.
Stephen Fuller is a dynamic bass/baritone who sings in the upscale supper club circuit in New York, New Jersey and Pennsylvania. He is also, the lead singer with the band Amani, Mr. Fuller has developed and performed musical presentations including "The Life and Times of Nat King Cole", "The Music of Lionel Richie" and "The Sounds of the Caribbean".  He is currently developing a show about the great Harry Belafonte. These musicals have been performed at the Bickford Theatre, The Brook Theatre, Watchung Arts Center, Roxbury Arts Center and other venues. He has also performed in Spain, Israel, Central America and parts of the Caribbean. He has released a CD entitled "Expressions of the Heart".
Tomoko Ohno has performed at Lincoln Center, Carnegie Hall, The Kennedy Center, The Blue Note and Birdland, in addition to appearing on live radio broadcasts by WBGO and WNYC, and ABC TV's Good Morning America. Her musical tours have included England, Ireland, Spain, Switzerland, Germany, Monaco, Portugal, Croatia, Canada, Suriname, Urguay, Argentina, Vietnam, as well as Japan and USA.  In addition to working with some of the biggest names in music, Miss Ohno also leads her own group, and has released three CDs on the Japan-based Tokuma label.
Alex Gressel began his professional career playing in Austrian theaters, bassist Alex Gressel has had the great fortune to play with world-class musicians such as the originator of  Bossa Nova and Samba Jazz  drumming Edison Machado, the Danish multi-talented Marilyn Mazur, alto sax giant Clarence "C" Sharpe, and , Johnny O'Neal, Gene Bertoncini, Warren Vaché, Houston Person, Roni Ben-Hur, Rio Clemente and many others.
 Gordon Lane is a highly respected presence on the jazz scene. The list of artists Gordon has performed with illuminates his skill and versatility. Some of the notables are: Ahmad Jamal, Arthur Prysock, Rhoda Scott, James Moody, Laverne Baker, Houston Person, Freddy Cole, Bud Shank, Stanley Jordan, Joe Tex, Percy Sledge, Jennifer Holiday, Eric Reed, Slide Hampton, Don Braden and Michel LeGrand.  Gordon Lane has played throughout Europe and the Caribbean.  Gordon continues to play in New York, New Jersey and Pennsylvania.
An amazing concert was held on May 17, 2022 to celebrate the winners of the Scholarship Competition. Thank you to all the generous donors and everyone who came out to support these musically talented students!
2022 MMC SCHOLARSHIP AWARDEES
 The following Rockland County High School seniors are recognized as MMC Scholarship Awardees after competing in the March 14, 2022 auditions, and received the following awards at the Scholarship Recital held on May 17, 2022.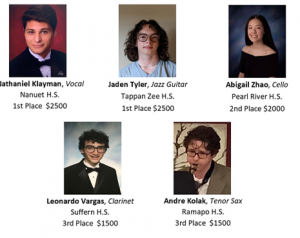 Award Given
1st  Place- $2500            Raymond F. Wright II and Morning Music Club                                     Award                                                                                                                 
1st Place- $2500             Morning Music Club award                                                         
2nd Place- $2000          Morning Music Club award                                                                                    
3rd Place- $1,500          Paul Laderach Memorial Award given by Françoise Laderach
3rd Place- $1,500          Dolores Blank Memorial Award given by Diane and Steven Blank
        Note:  The following donations have been made to the Scholarship Fund in Memory of:
          Francesca Richards by Catherine Reynolds and  Anne French by Abgail French

Scholarship Awards
 Since 1950 MMC has held annual scholarship auditions for musically talented Rockland County High School seniors who plan to continue their music studies in college or conservatory.  Winners are awarded monetary scholarships and are showcased in a public recital.  Donations to the scholarship fund are accepted at the door and throughout the year.  More information will be forthcoming.
 Outreach Program 
MMC sponsors special music programs in the community for the young, the elderly and the physically and mentally challenged.
An Invitation to Join MMC
Morning Music Club's main thrust is to support and promote fine music.  MMC provides music lovers a venue to enjoy and appreciate professional musicians from Rockland County and the greater NY area.  Our members provide scholarships to Rockland County High School seniors to further their musical education.  MMC provides outreach to community charities by sponsoring local musicians to perform.  MMC Chorus, a volunteer ensemble from our membership also performs for senior centers and nursing homes in the area. Be a part of an organization that makes a difference in our community.  Join MMC by completing and mailing the

application form

,  along with $40 annual dues payable to: "Morning Music Club",  Mail to: Bernice Rice Gerstein, Treasurer, 4 Baltic Court, New City, New York 10956.