The Morning Music Club (MMC) was established on January 8, 1924 by a group of professional women musicians in the Nyack area.  MMC serves the community culturally, through its Concert Series; educationally, through its Music Scholarship Awards; and charitably; through its Outreach Program. Today, MMC attracts both men and women as members from Rockland and adjacent counties, and includes music lovers and patrons as well as musicians.

Read all about our last event:  Membership Celebration on April 30, 2017 –   

Meet and Greet
Upcoming Event:  Morning Music Club Scholarship Recital ————————————————————————————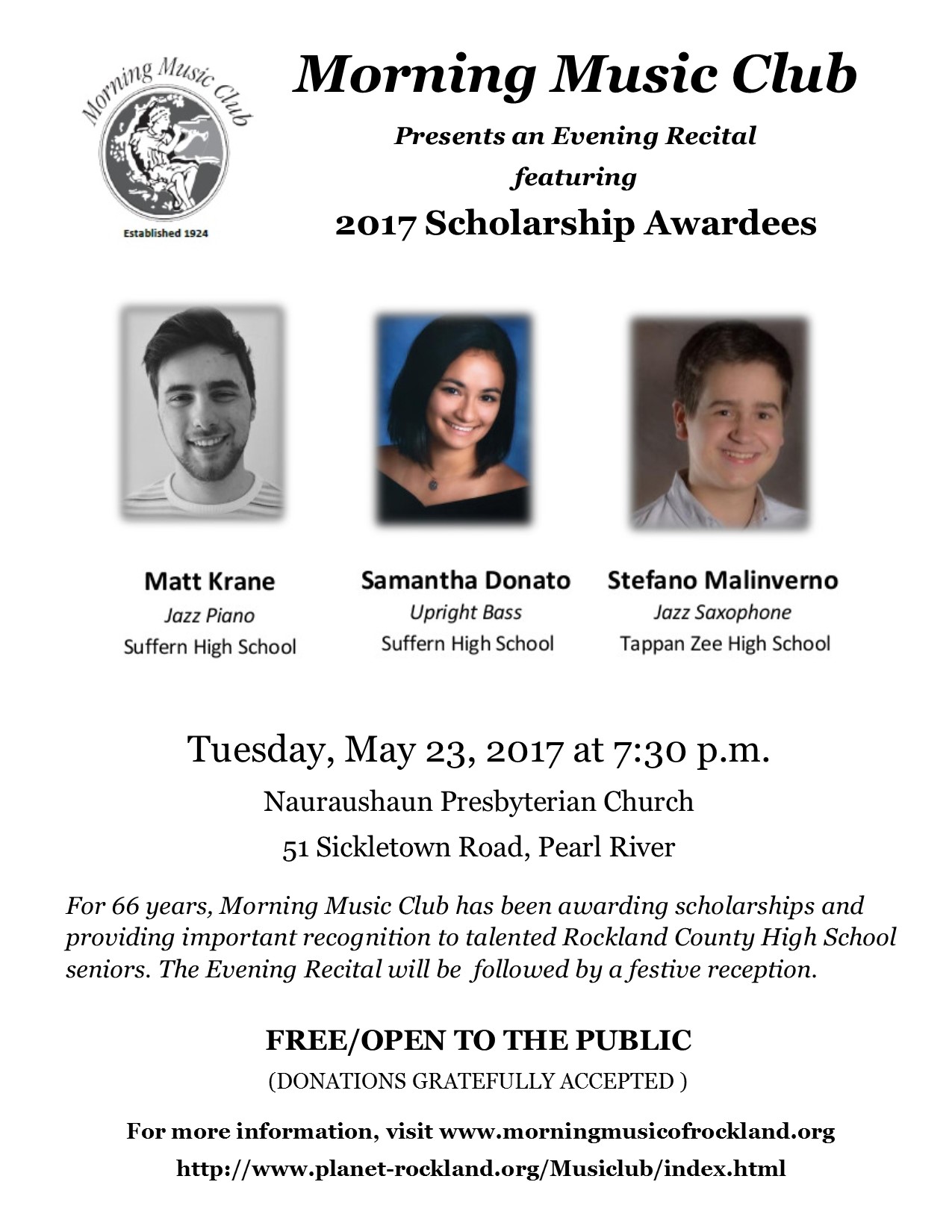 Facebook – Visit our new facebook page and like/share or comment on our event flyer to promote our concert!
https://www.facebook.com/morningmusicclub
Meetings and Events
GENERAL MEMBERSHIP MEETINGS – all members are invited!

Tuesday, September 20, 2016-  Home of Bernice Rice Gerstein, 10:30 a.m.
Tuesday, May 9, 2017- Nanuet Library, 10:30 a.m.
EXECUTIVE BOARD MEETINGS – at Nanuet Library, 10:30 a.m.
December 13, 2016
Feb 7, 2017
March 7, 2017
April 4, 2017
May 9, 2017
Morning Music Club (MMC) Chorus
 No auditions required.  Come and join the chorus!
 A professional director holds rehearsals Mondays during the autumn season to prepare for the annual Holiday Concert.
Their performance is repeated in the community as part of MMC's Outreach Program.
 Rehearsals are 9:30-11:30a.m. on Mondays Oct. 3, 10, 17, 24, 31  Nov. 7, 14, 21, 28 at Nauraushaun Presbyterian Church, 51 Sickletown Road, Pearl River, N.Y.  10965. Concert Tuesday, Dec. 6.  Call Geraldine Goumas for more info at 845-358-4025 Or send email for more info.
Concert Series 2016-2017
MMC features professional musicians from Rockland County and the greater NYC area in its annual Concert Series.  Concerts are generally held on Tuesday mornings at 10:30 a.m. and cover a wide range of musical offerings.   Concerts are held at: Nauraushaun Presbyterian Church, 51 Sickletown Road, Pearl River, N.Y.  10965.
Carpooling is recommended.
(Donations to the Concert Series and scholarship fund are accepted at the door and donations of canned or paper goods for People to People are collected)
Fall Concert Tuesday, November 15, 2016, 10:30a..m.
Valley Cottage Library 110 Rt 303, Valley Cottage, NY
Nicholas King, pianist has performed in major concert halls in Europe, Canada and the US and won the American Paderewski and the Royal Conservatory of Music Glen Gould School Competitions.  As founder and director of the Art of Giving Back (AGB), he supports young classical musicians and was recognized by the US Government. Mr. King is currently earning his master's Degree from the Juilliard School under Julian Martin's tutelage.
Holiday Concert Tuesday, December 6, 2016, 10:30 a.m.
Chorus, led by director Melissa Manning will perform seasonal selections.
 Guest artists:  
Ansel Bobrow, fifteen year old, classical guitarist, student of
Jonathan Trotta at Rockland Conservatory of Music, will join the Juilliard Pre-college Program in 2016.  He performed as a soloist with the Rockland County Orchestra and participated in the New York Youth Symphony Chamber Program at Carnegie Hall.
Andrew Hughes, senior high school violist, currently in the Juilliard Pre-college Program has performed with the National Youth Symphony Orchestra at Carnegie Hall, the National Arts Club, Weil Recital Hall and in 2016 toured Europe under director Valery Giergiev.
Carols and a festive reception will follow.
————————————————————————————————————————————
Winter Concert -March 14, 2017, 10:30 a.m.
Nauraushaun Presbyterian Church, 51 Sickletown Road, Pearl River, N.Y.  10965.
Winner of the International Chamber Music Competition of New England, Armenian-American cellist Ani Kalayjian enjoys an exciting career that has taken her to Japan, Australia, Canada, Europe, and the United Sates, both as a soloist and chamber musician.  Recognized for her innovative programs and passionate about expressing her performances to a wide audience, Ani has performed music from hospitals to concert halls, nursing homes, fundraisers and schools among other communities.  Most recently, she performed Haydn, Beethoven, & Schubert for the Princes of Qatar & Princess Eugenie of England at the Frick Museum as well as Brahms chamber music for the co-founder of Facebook. This season will include tours around the United States as a chamber music artist on the Bartow Pell Mansion, Cold Spring Concert Series, American String Project in Seattle, Brooklyn Historical Society in NY, Fortuna Concert Series in CA, Ridotto Series, Concerts International Memphis, among others and a commisioned world premiere by Polina Nazakinskaya as well as her debut at the Chateau de la Moutte festival in St. Tropez.  Ani recently performed chamber music concerts in Beirut as well as outreach performaces at St. Jude Children's Hospital and the Insan School for Iraqi & Syrian refugee children, Byblos Armenian orphanage, Karageusian Foundation as well as playing as principal cellist at the American University of Beirut concerts with members of the Lebanese Philharmonic.
Pianist Reiko Uchida made her New York solo debut in 2001 at Carnegie's Weill Hall.  She has performed solo and chamber music concerts in Germany, France, Italy, Russia, Finland, Bulgaria, Romania, the Czech Republic, Korea, and Japan, in venues including Suntory Hall, Avery Fisher Hall, Alice Tully Hall, the 92nd Street Y, the Metropolitan Museum of Art, the Kennedy Center, and the White House. First prize winner of the Joanna Hodges Piano Competition and Zinetti International Competition, she has appeared as a soloist with the Los Angeles Philharmonic, Santa Fe Symphony, Greenwich Symphony, and the Princeton Symphony, among others.
A passionate chamber musician, Ms.Uchida is a member of Camera Lucida and the Moebius Ensemble. She is a past member of Chamber Music Society of Lincoln Center Two and has toured with Musicians from Marlboro, as well as with the Lincoln Center Chamber Music Society. She has collaborated with many of the leading artists of today including Hillary Hahn, Pinchas Zukerman, Osmo Vänskä and members of the Tokyo String Quartet. She has performed as guest artist with the American Chamber Players, and the Borromeo, Talich, Formosa, Daedalus, and St. Lawrence String Quartets. She has partnered in recital with Jennifer Koh, Jessica Lee, Thomas Meglioranza, Anne Akiko Meyers, Anthony McGill, David Shifrin, Sharon Robinson, and Jaime Laredo.  "String Poetic," her recording with Jennifer Koh, was nominated for a Grammy Award.
Ms. Uchida holds a Bachelor's degree from the Curtis Institute of Music, a Master's degree from the Mannes College of Music, and an Artist Diploma from the Juilliard School. She studied with Claude Frank, Leon Fleisher, Edward Aldwell, Sophia Rosoff, and Margo Garrett. She has taught at the Brevard Music Center, and is currently a Music Associate at Columbia University
Scholarship Recital Tuesday, May 23, 2017, 7:30 p.m.
Nauraushaun Presbyterian Church, 51 Sickletown Road, Pearl River, N.Y.  10965.
MMC's annual Scholarship Recital features Rockland County Scholarship winners followed by light refreshments.
Scholarship Awards
 Since 1950 MMC has held annual scholarship auditions for musically talented Rockland County High School seniors who plan to continue their music studies in college or conservatory.  Winners are awarded monetary scholarships and are showcased in a public recital.  Donations to the scholarship fund are accepted at the door and throughout the year.  Download 2017 scholarship application here: 
2017 SCHOLARSHIP APPLICATION
Outreach Program 
MMC sponsors special music programs in the community for the young, the elderly and the physically and mentally challenged.
An Invitation to Join MMC
Morning Music Club's
 main thrust is to support and promote fine music.  MMC provides music lovers a venue to enjoy and appreciate professional musicians from Rockland County and the greater NY area.  Our members provide scholarships to Rockland County High School seniors to further their musical education.  MMC provides outreach to community charities by sponsoring local musicians to perform.  MMC Chorus, a volunteer ensemble from our membership also performs for senior centers and nursing homes in the area. Be a part of an organization that makes a difference in our community.  Join MMC by completing and mailing the application form found in the
Brochure
,  along with $35 annual dues payable to: "Morning Music Club",  
Mail to:
 Bernice Rice Gerstein, Treasurer, 4 Baltic Court, New City, New York 10956.
NOTE: Dues for the following year, July 1, 2017 through June 30, 2018 will be $40.
Additional MMC Events
Meet and Greet, Saturday, April 30, 2017 3 p.m. – open to current members.  Members are invited to bring guests.
Rockland Conservatory of Music 45 S Main St, Pearl River, NY 10965
Stephen Fuller Jazz Quartet.  Members are welcome to bring guests